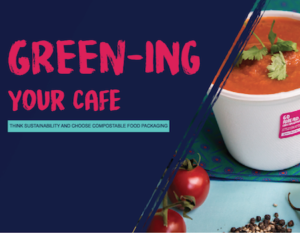 Looking for ways to GREEN your Cafe or Restaurant? We believe that lots of small actions add up to a big impact! Here are our top tips for getting more sustainable in your cafe:
1. Source from Local and Sustainable Farmers
Choose local suppliers who use sustainable farming methods. Sustainable farming practices protect biodiversity, keep soils healthy and use less energy. And they produce great tasting food!
2. Choose GREEN HOME Compostable Food Packaging
Healthy food deserves healthy packaging. Our compostables are a natural and attractive way to serve food – while reducing harmful waste and pollution! And they have a lower carbon footprint than plastic and styrofoam alternatives. 
3. Compost your G

reen

 Waste
Compost all your coffee grounds, food waste and used compostable packaging. They're full of important nutrients that can help replenish soil. It's a great way to give back to Mama Earth. 
4. Save Energy
Choose energy efficient appliances, equipment and light bulbs, and switch them off when not in use.
5. Avoid Harmful Chemicals

 
Use earth-friendly and biodegradable cleaning products, soaps and air fresheners. Much better for people and the planet. 
6. Grow Your Own
If you have a little suitable space, grow your own organic herbs and maybe even some produce. It doesn't get more fresh and local than that!
7. Be Water Wise
Educate your staff and customers on the importance of saving water. There are many ways to save water, so get creative. One idea is to collect left over water from glasses, bottles and ice-buckets and use it to water plants and wash floors.